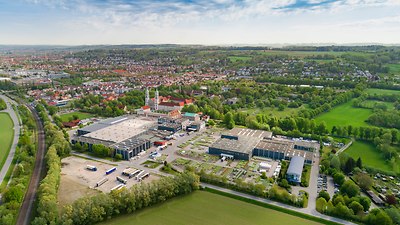 Contract prolongation with Grieshaber
Contract prolongation: Central distribution warehouse for forage harvesting technology at GRIESHABER in Ravensburg has proven its worth
The existing contract ends after five years on 30.09.2019. After a benchmark and negotiations with GRIESHABER, the contract prolongation was signed for another five years until 2024 at a joint meeting in Weingarten.
On 1st October 2014, GRIESHABER took over the central storage and distribution of finished machines from CLAAS Saulgau GmbH at the location in Ravensburg.
Since then, GRIESHABER has been transporting the approximately 12,000 forage harvesters and attachments per year in trailer traffic with up to 20 trucks per day from Bad Saulgau to the central warehouse in Ravensburg. There, the equipment is temporarily stored on around 30,000m² until it is called off by the customer and dispatched for worldwide dispatch.
In addition to truck loading, GRIESHABER has also taken over the loading of containers for oversea markets.
In January 2017, GRIESHABER was awarded as the "CLAAS Supplier of the Year" in the category Logistics at the Suppliers' Day.