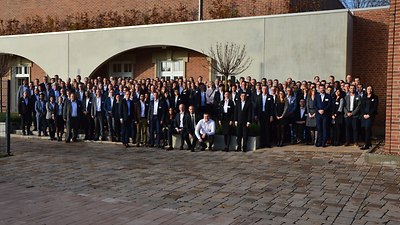 This year's Purchasers' Day was held in Marienfeld at the end of November, with around 200 participants from the CLAAS Group
"CLAAS MOVES 2020" gives new impetus to the purchasing department
The focus of the event was "CLAAS MOVES 2020", a purchasing initiative aiming at improving profitability. In the evening, the prizes for "Purchaser of the Year" were awarded.
The purchasing staff was welcomed by Rüdiger Mohr, Vice President Corporate Purchasing of the CLAAS Group. "As part of CLAAS MOVES 2020, we have planned a wide range of activities in the purchasing departments to help improve profitability. For example, we have issued a tender invitation for all inbound shipping in the amount of €24 million per year", explained Rüdiger Mohr. "The Supplier Improvement Initiative, which is all about improving the performance of existing suppliers, has been implemented at more suppliers than planned", reported Hubert Kleine-Kracht, Head of Purchasing for System Technology, CSE.
One highlight of the event was the information about the new Purchasing Strategy 2030, with presentations on eight of a total of twelve different areas of action being given by the respective project managers. The headline is: "FROM GOOD TO GREAT – Having the best price at the earliest point in time".
Rüdiger Mohr also presented the current CLAAS Group strategy. Matthias Erdmann, Head of Service Center Accounts Payable, and Dr. Hendrik Schellmann, Head of Corporate Production Systems, provided insights into the payment and ordering processes at CLAAS – an important aspect of good supplier relationships. The first (half) day was brought to a close with a joint event in the evening to award the prizes for the best purchasers of 2019.
The second (half) day began with a review of 2019 and the following presentation of After-Sales products and spare parts by Hans-Dirk Willeke, Head of After-Sales Products, CSP. Further topics such as value analysis in the area of Product Cost Optimisation and Make-or-Buy in the area of PRM were presented by Steffen Tiemann, Head of Product Cost Optimization, and Michael Potthast, Head of PRM.
Professor Christoph Bode of the University of Mannheim spoke as a guest about risk management and presented the new collaboration between CLAAS Purchasing and the Procurement chair at the university.
Hans Lampert provided insights into the latest business developments and the outlook for 2020. He strongly emphasised the need to further improve the profitability of CLAAS in the long term. The event concluded with a presentation of best practices in purchasing, led by Michael Potthast.