Purchasing awards prices virtually to the Suppliers of the Year
Awarding Ceremony 2021
Due to the pandemic, Corporate Purchasing presented this year's supplier awards in five individual Skype events. Host Rüdiger Mohr (SVP Corporate Purchasing and Senior Director Strategic Programs KGaA), together with the respective Lead Buyers, created a festive atmosphere and raised the digital red curtain for the award winners.
Rüdiger Mohr reflected on the successful past fiscal year and emphasized the importance of reliable cooperation in a spirit of partnership, especially in the current challenging times.
Supplier of the Year as total winner is the company Sauter Drehteile Bärenthal GmbH. Lead Buyer Andreas Rudnick thanked the manufacturer of complex turned parts for the close and reliable cooperation over the past years. Sauter has always been able to demonstrate good organization and high quality standards, even in times when special flexibility was required.
The company Carl Nolte Technik GmbH, as Supplier of the Year in the "Service" category, stood out for its particularly high delivery reliability, for example in the supply of personal protective equipment. Lead Buyer Martina Pangsy thanked the company for its great commitment and for supplying CLAAS colleagues worldwide with urgently needed material.
Likewise, ARCOPROFIL Srl. made a valuable contribution to the continuity of the production processes and was awarded the prize in the "Logistics" category. As an Italian manufacturer of shafts and forged blanks, ARCOPROFIL has been affected by regulatory restrictions in the first Corona wave. Nevertheless, emphasizes Lead Buyer Andreas Rudnick, it was possible to maintain a high delivery performance and continuous optimization of processes through fast and proactive communication.
This year the award in the category "Quality" went to Exide Technologies from France. CLAAS and Exide have been working together successfully for more than 20 years in the field of original equipment and spare parts supply with starter batteries. Johannes Hohenhorst, in his role as Head of Purchasing and Lead Buyer, expressed his gratitude for the constantly high quality of the products as well as the motivation for close cooperation, which is expressed, among other things, in joint R&D studies and continuous improvements of customized solutions.
Supplier of the Year in the "Innovation" category is HELLA GmbH & Co. KGaA from Lippstadt.  Johannes Hohenhorst thanked the supplier of lighting and electronic components for the high degree of transparency and initiative in developing new solutions for CLAAS, which have contributed to the implementation of innovative solutions on the product and process side.
The prizes and trophies were sent to the winners following the events. Although the annual confetti shower at the Technoparc was replaced by virtual "fireworks" in presentation mode, CLAAS sends a signal of appreciation to all suppliers whose tireless efforts make the success of CLAAS possible.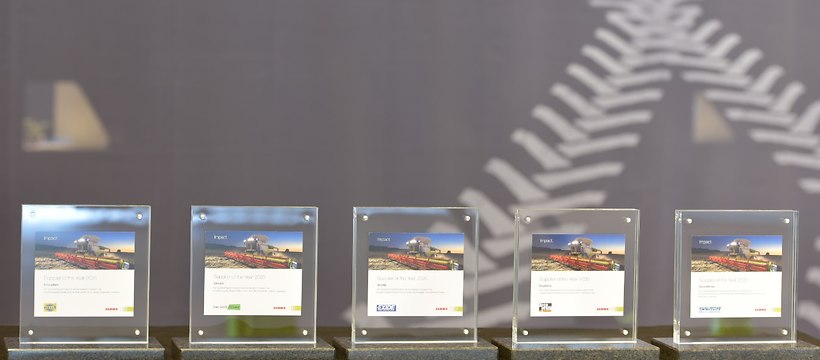 The winner trophies were sent by post this year.
Supplier of the Year Awards
The company Sauter Drehteile Bärenthal GmbH secured the title of overall winner this year. Four other companies received awards:
Quality:           Exide Technologies, Gennevilliers, France
Logistics:         ARCOPROFIL Srl., Santorso, Italy
Innovation:      HELLA GmbH & Co. KGaA, Lippstadt, Germany
Service:           Carl Nolte Technik GmbH, Greven, Germany