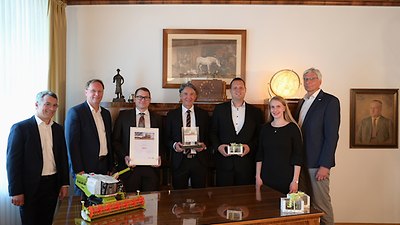 Supplier of the Year 2021
Awards presented for Suppliers of the Year 2021
Once again this year, our Suppliers of the Year were honored by Corporate Purchasing. After last year's award ceremony could only take place digitally, this year the awards were once again presented to the winners in person.
The buyers of the respective product groups were thus able to send a signal of thanks to suppliers who stood out for their outstanding performance or defied adverse conditions to maintain their high level of service and quality.
The Supplier of the Year as total Winner in 2021 is the company Fried Kunststofftechnik GmbH. The family-owned company impressed with consistent, first-class performance as well as short-term support in the area of material availability. The prize was presented by Rüdiger Feldkamp and Kathrin Lattka during a joint dinner at the August Claas Haus in Harsewinkel.
Other awards in the areas of quality, logistics, innovation and service
This year's winner in the "Quality" category was Leoni Bordnetzsysteme GmbH. The supplier of products and solutions for energy and data management fulfilled all processes impeccably and delivered a particularly high standard of quality. The supplier award was presented by Jan Kiffmeier.
The Supplier of the Year award in the "Logistics" category went to Pfaff International GmbH. The company has been a strong partner for shipments to various countries. The Brexit has posed new problems to transportation in Europe. Pfaff International successfully met the challenge and fulfilled transport requirements flawlessly. Sascha Gees expressed his sincere thanks for the excellent performance.
Carraro Drive Tech Italia SpA qualified for the Supplier of the Year award in the "Innovation" category. Despite the tight schedule and Corona conditions, Carraro worked dedicatedly on the developments and delivered solutions quickly. Thanks to the close cooperation, the project goals were achieved on schedule. Rüdiger Mohr and Alexander Peters expressed their thanks for this professionalism and speed of development.
KALE OTO RADYATÖR stood out for its particularly high reliability in supplying CLAAS plants and was named Supplier of the Year in the "Service" category. The experienced Turkish manufacturer of cooling systems delivered a qualified service even under pandemic-related restrictions. Antoine Capitaine expressed his thanks for the excellent Corona performance.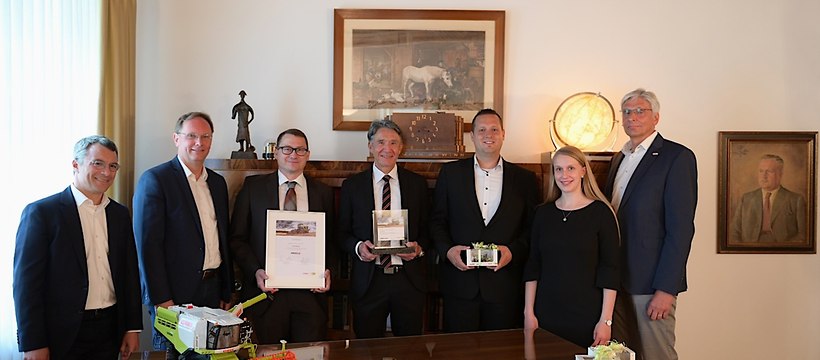 Awarding Ceremony in the August Claas Haus: v.l.: Henner Böttcher, Executive Vice President and CFO, Rüdiger Mohr, Senior Vice President Corporate Purchasing and Senior Director Strategic Programs (all CLAAS), Marko Travner, Project Manager, Ralf Krüger, CEO, Manuel Pail, Sales Manager (all Fried Kunststofftechnik), Kathrin Lattka, Strategic Buyer, Rüdiger Feldkamp, Head of Purchasing Components & Advanced Technology (both CLAAS)