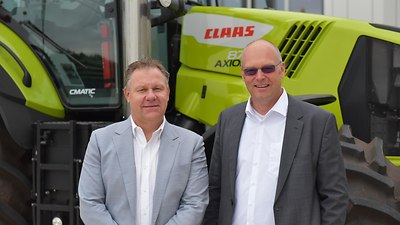 CLAAS and Trimble have jointly developed a new generation of GPS PILOT guidance systems.
CLAAS and Trimble: Strategic cooperation bears fruit
CLAAS and Trimble have jointly developed a new generation of GPS PILOT guidance systems for CLAAS tractors, combine harvesters and forage harvesters. This was first presented together with the new CEMIS 1200 terminal and the Sat 900 receiver in summer 2021 for the TRION, and is now being rolled out step by step to other product ranges and model series such as LEXION,JAGUAR, ARION and AXION. To coordinate further steps in technical development, CLAAS CEO Thomas Böck, the management and the responsible development department of CLAAS E-Systems and Corporate Purchasing met with an international delegation from Trimble.
Trimble world-leading supplier
For the development of the latest generation of GPS-based guidance systems, CLAAS relies on a strategic cooperation with the world's leading supplier Trimble Inc. The joint development covers the areas of satellite-assisted steering as well as precision farming and the ISOBUS infrastructure including task management. In addition, Trimble will supply the SAT 900 GPS receiver specified specifically for the new generation CLAAS GPS PILOT. "Trimble, as an experienced, innovative and globally represented supplier of steering systems, was our first choice for a strategic cooperation," explains Carsten Hoff, Managing Director CLAAS E-Systems.
Stephan Vormbrock, Managing Director Market & Administration at CLAAS E-Systems, continues: "As a globally active agricultural engineering manufacturer, we chose Trimble as a technology partner that is itself represented in more than 40 countries with its own locations and thus has the same international way of thinking and approach as CLAAS. For our customers, it is an invaluable advantage to get technologies from suppliers who know the different market needs inside out."
Meeting with Thomas Böck at CLAAS E-Systems in Dissen
On September 14, high-level representatives from CLAAS and Trimble met at CLAAS E-Systems in Dissen to discuss further key points of development and future cooperation. Darryl Matthews, Senior Vice President Natural Resources at Trimble, discussed technical and strategic issues with Thomas Böck, Carsten Hoff, Stephan Vormbrock and the development team led by Christian Ehlert. The technical possibilities and interfaces for the areas of steering and documentation as well as application fields of smart farming are to be further expanded in order to provide CLAAS customers with state-of-the-art tools for digital farm management. Documentation with CLAAS TELEMATICS and CLAAS connect as well as the connection to 365FarmNet will continue to be developed exclusively by CLAAS. Previously available interfaces such as DataConnect and CLAAS APIs to external platforms such as Climate FieldView, OMNIA, Dacom and xFarm OFT will also be adopted. The CEMIS 1200 ISOBUS terminal with 12-inch touch display developed by CLAAS and Trimble for the new generation of steering systems will replace the S10 terminal previously offered.
The goal is clear: "All current and future developments in the areas of automated steering and smart farming are ultimately important milestones on the way to fully autonomous processes," summarizes Carsten Hoff. "With each further expansion stage of our systems, we get one step closer to this goal."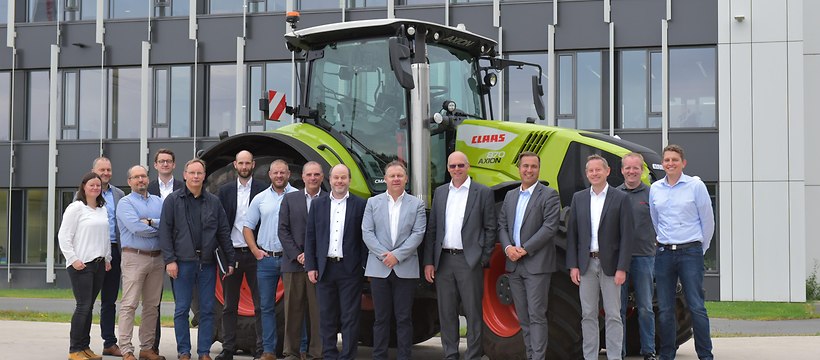 From left: Astrid Ullrich, Robert Fraune, Bartek Gloger und Philipp von Witzleben (all Trimble), Rüdiger Mohr, Senior Vice President Corporate Purchasing CLAAS KGaA mbH, Christian Ehlert, Director E/E Segment Driving & Steering CLAAS E-Systems, Chris Hartley und Jim Chambers (Trimble), Carsten Hoff, Managing Director CES Research/Dev. CLAAS E-Systems, Darryl Matthews (Trimble), Thomas Böck, CEO CLAAS Group, Maik Manthey, SVP Technology & Systems CLAAS KGaA mbH, Stephan Vormbrock, Managing Director CES Market/Admin. CLAAS KGaA mbH, Jan Behmenburg, Development Engineer, Syst./Softw. Steering CLAAS E-Systems und Alexander Kruse, Head of System & SW Steering CLAAS E-Systems.