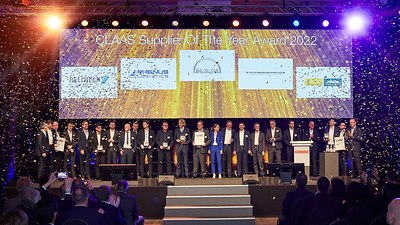 Supplier Day 2023
CLAAS awarded the best suppliers of the year 2022
Under the motto "Changes", the first Supplier Day was organized by CLAAS after a three-year break due to the Corona pandemic.
Henner Böttcher, CFO, and Head of Purchasing Rüdiger Mohr welcomed the guests. "Thanks to your support, we were able to keep our harvest promise last year, so that all our customers could harvest their crops," Henner Böttcher addressed the participants. "Even in times of fragile supply chains, you have delivered reliably in the proverbial sense. We are aware of the effort that was needed to do this. The quality of each relationship is evident in the crisis. Thank you for this achievement!"
Despite the ongoing major challenges, optimism prevailed at the Supplier Day: The well-filled order books from CLAAS in turn ensure well-filled order books for the delivery partners. In the meantime, CLAAS and its supply partners can react well to the ever-changing conditions caused by volatile prices and material availability, as Rüdiger Mohr emphasized: "We are getting exercise in crisis. We know that we can rely on our suppliers and always find a constructive solution together. Ultimately, it is mutual trust that brings us forward. However, it will be important that we do not face further unpredictable outlier events in the near future, or - as economists put it - that we again see far more white swans than black swans!"
In his guest lecture, W. Schmid from Daimler Truck AG spoke about the transformation in the agricultural sector and promoted technology openness. For example, the electric drive is ideal for lighter applications, while the hydrogen technology, which works with hot and cold combustion - as in the fuel cell - has great potential for medium and heavy commercial vehicles such as agricultural machines. In the end, the farmer would have to pay the bill.
The highlight and conclusion of the event was the award of the supplier prizes for the past year 2022. MAN Truck & Bus SE, Nuremberg, Germany, was awarded the best supplier of the year 2022. Prizes in four other categories were awarded to the following CLAAS suppliers:
- Hans Hellbeck Maschinenbau e. K., Borchen, (quality)
- Rhenus Freight Logistics GmbH & Co. KG, Hilden (Logistics)
- Schulte Verpackungs-Systeme GmbH, Hemer (Service)
- VE Commercial Vehicles Ltd, Pithampur, India (Innovation)