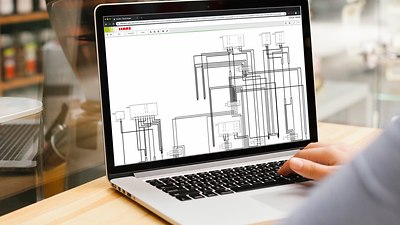 The Circuit Viewer supports the service engineers at CLAAS in the office as well as in the field during an error analysis by interactive and detailed circuit diagrams
CLAAS Circuit Viewer
Modern agricultural machinery consist out of several subsystems with more than 100 functions which need to be understood in case of service.
The associated circuit diagrams are available for the engineers via the company-owned portal. Due to the growing complexity of the machinery, existing processes came up against the limits: In order to understand the correlations within the circuit diagrams covered up to 600 sites, the plans with relevant information first had to be found and afterwards printed out and merged.
This process means a high time effort and contains big error potential as well as unnecessary stress for the engineers who have to repair combines during harvest in the field. To improve this situation CLAAS developed the Circuit Viewer in cooperation with 4Soft GmbH.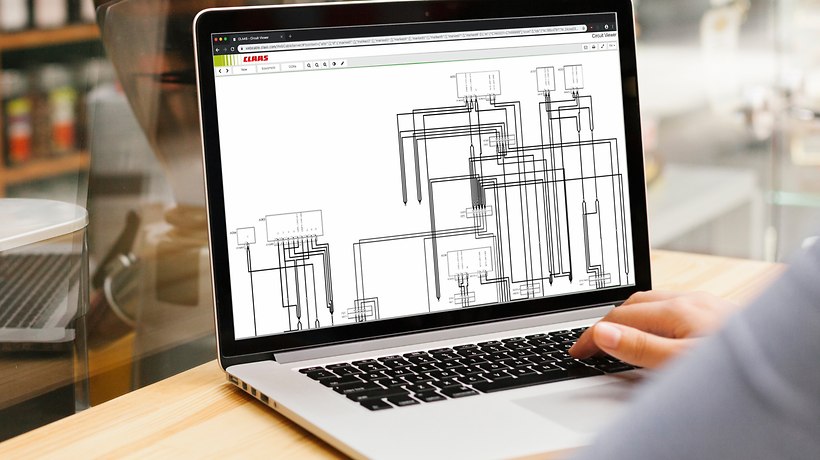 View of the CLAAS Circuit Viewer
Benefit for CLAAS:
The digitalization of the circuit diagrams via the Circuit Viewer essentially simplifies and accelerates the service processes. The developed platform offers the engineers all circuit diagrams of the CLAAS product range which they are need for their services. The Circuit Viewer shows information machine-precise in Online- as well as in Offline-Use: The presented diagrams always contain only those components and connections of the machine which the engineer has in front of him.
In contrast to paper or PDF documents the plans are interactive. Users can retrieve customized service documentations for certain problems and functional areas as well as combine and merge basic plans of the respective machine with the plans of the various attachments at the touch of a button.
Finally, the service staff can view service-relevant additional information as well as highlight certain parts or areas before sending them for any follow-up actions directly to the helpdesk. Thus avoid printing of pages and the manual inspection of the plans. Via the company-owned and standardized CLAAS data format CBS (CLAAS Schematic Bundle) suppliers can access the data without any problems.
The contribution of 4Soft:
Jens Kipshagen, Head of Technical Editorial, appreciates especially the competence of 4Soft and the partnership-based cooperation in the development project: "The team of 4Soft worked out the platform requirements and the existing data landscape in cooperation with us. On that basis 4Soft designed the architecture of the Circuit Viewer and developed the system according to the agile procedure Scrum afterwards. Especially the flexibility of 4Soft during the project with which they responded to our requirements has pleased us well."
After completion of the first productive releases, 4Soft has integrated the complete system into the existing system landscape. The quality assurance as well as the maintenance and further development of the Circuit Viewer are still part within the scope of 4Soft.