Interfaces: motto of the Suppliers' Day 2019
Suppliers' Day 2019
This year's Suppliers' Day of the CLAAS Group was held mid-January in the Technoparc in Harsewinkel; the main subject were the "Interfaces" between CLAAS and its' suppliers.
Hans Lampert provided an overview of the business figures of 2018. "In view of the weaker economic situation in agricultural engineering, it will be important for CLAAS to reduce working capital and the cost of goods sold, and optimize our internal organization. Research expenditure at a record level will enable us to exploit every opportunity on the market. Under these general conditions we can expect a moderate rise in turnover and a stable operating profit," said the Chief Financial Officer.
The subject of availability was once again a focus of the business event. Good relationships between the departments are important in this respect. Philipp Lohn, Head of Service Functions Operations Planning, described therefore the tools for planning CLAAS' sales and production figures.
One highlight was the active participation of suppliers by means of a Mentimeter survey. In this survey the suppliers had the opportunity to specify potential improvements at CLAAS and in their own company. 90 per cent of suppliers expressed the wish during the survey to rate CLAAS as a customer.
In order to ensure the delivery capability and flexibility of suppliers, priority will be given to improve the CLAAS supplier portfolio," emphasized Rüdiger Mohr, VP Corporate Purchasing. "This can be achieved by acquiring new suppliers as well as improving the performance of existing suppliers." Efforts will be made to achieve this objective within the framework of a so-called "Supplier Improvement Initiative" (SII) over the course of several years. Five consultants with expertise in the areas of production, logistics, IT and company management were present to discuss the subject directly with suppliers and CLAAS employees.
The supplier portfolio is managed at CLAAS with the help of the new supplier portal. The supplier portal is a software platform for communication with suppliers. This platform contains three modules: Purchasing (SPP), Quality (SPQ) and Logistics (SPL). The modules were presented by Johannes Dolle, Purchasing Intelligence, Roland Pollmeyer, Corporate Quality and Process Management, and Norbert Deitermann, Head of Corporate Production Systems.
Following an introduction by Thomas Böck, group executive board member with responsibility for the Technology and Systems Division, Stephan Diekhaus, Virtual Function Development Manager, gave a talk on the subject of "Lightweight design and virtual creativity". Using vivid examples, he explained how simulations and state-of-the-art data analyses contribute to creative solutions at CLAAS.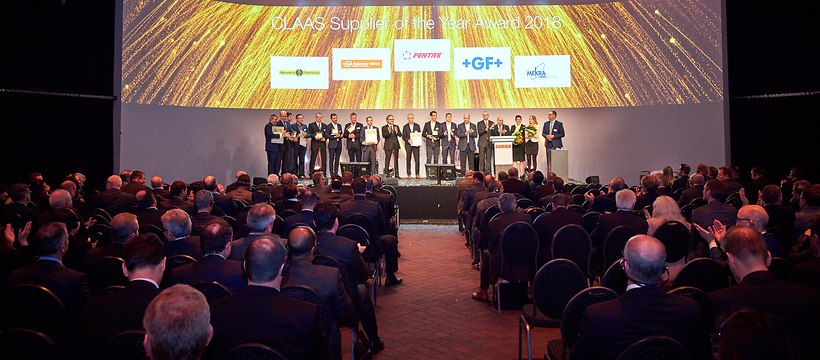 Award ceremony: all the winners gathered on stage for a group photo. (Photo Rüsing / Studio Toelle)
Supplier of the Year Awards
The highlight of the business event was the presentation of the "Supplier of the Year Awards". The company Pentas Moulding B.V. was the total winner this year. Four other companies were honoured:

Quality:             Agrostroj Pelhrimov A.S., Pelhrimov, Czech Republic     
Logistics:          Gebrüder Weiss Gesellschaft mbH, Maria Lanzendorf, Austria
Innovation:        GF Casting Solutions Leipzig GmbH, Leipzig, Germany
Service:            Mekra Lang GmbH & Co. KG, Ergersheim, Germany