Suppliers' Day 2020: From Good to Great
Suppliers' Day 2020
Price developments, purchasing strategy and innovation were the major topics of this years Suppliers' Day, which took place in the Technoparc in January. The motto of the event was "From Good to Great" – meaning that CLAAS Purchasing is in a good position but can become even better. Once again, the highlight of the event was the award ceremony for "Supplier of the Year".
Kristin Röper was presenter for the day and welcomed the guests. Hans Lampert looked into the future in his talk, explaining that product launches and investments seem to be highly promising. He also noted that margins need to be improved and inventory reduced at the same time. Thomas Böck then introduced himself in his new role and emphasised the importance of good collaboration with suppliers for the success of the company.
Rüdiger Mohr reflected on the influence of the general political situation on the joint business of CLAAS and its suppliers and gave his comments on the future build programme: "We are expecting a slight downturn. However, on the positive side of things, in the first quarter we have achieved an increase in customer sales across all of our products of 8.5% compared to the previous year. This is an excellent signal". He presented the Purchasing Strategy 2030 under the motto of "From Good to Great" and emphasised the future modelling of the global supplier base, early involvement of the purchasing department in product roadmapping as well as the implementation of "Innovation Scouting" at suppliers.
 Stefan Schulte, Director Manufacturing CSE, and Dirk Meiners, Project Lead "SynPro 2020" CSE, informed the suppliers about "SynPro 2020". They discussed the need for joint preparation in Production and Logistics in view of the extremely long shut-down in summer 2021 for construction-related reasons.
The CLAAS campaign for the American market "Be Brighter" and the now purely seed-green CLAAS product portfolio were presented by Eric Raby, President & General Manager – Sales at CLAAS of America. He highlighted the special importance of the dealer network and the customer-centric approach of CLAAS of America.
Guest speaker Prof. Dr. Christoph Bode from the purchasing section of the University of Mannheim gave a speech on the topic of innovation and the requirements for successful collaboration between customer and supplier: "Both partners must be a good fit in terms of their relationship and their strategy in order to achieve the best possible combination of the core expertise of CLAAS and innovation by the supplier."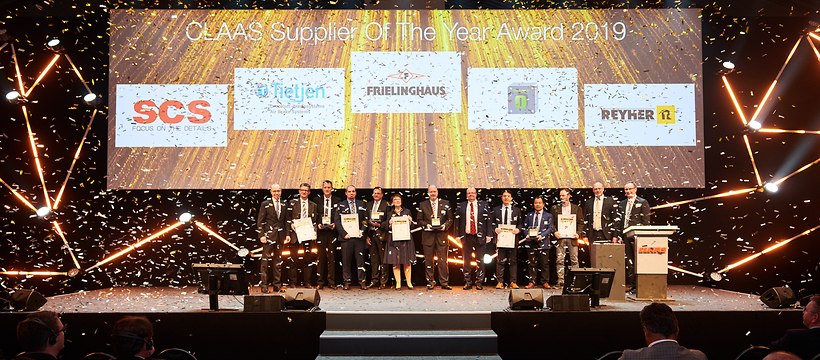 Confetti shower: Representatives of the winners, CLAAS top management and the CLAAS owner family (Photo Rüsing / Studio Toelle)
Supplier of the Year Awards
The company Frielinghaus GmbH won the award for the best overall supplier in 2019. The following CLAAS suppliers got awards in four other categories:
Quality:             CHANGZHOU SCS Sprocket Transmission Co. Ltd., Changzhou, China    
Logistics:          Dipl.-Ing. Tietjen GmbH, Bücken, Germany
Innovation:        S.A. Orcaplast, Brie Comte Robert, France
Service:            F. Reyher Nchfg. GmbH & Co. KG, Hamburg, Germany